1
Best Dog Food for English Bulldogs: 5 Great Options
Finding the best dog food for English bulldogs can be a bit of a chore, since this breed suffers from a few common health problems. Plus, they put on weight pretty easy, so it often takes a bit of work to keep them lean.
If that weren't enough, these little guys have a hard time shedding pounds if they do gain weight. So finding a good food from the start is essential. We consulted with several dog experts and handlers, and we've compiled a list of great dog foods that'll provide your tiny English gentleman with all the nutrients he needs.
Quick Picks: Top Food Choices for English Bulldogs
**Below, you'll find our expert's science-backed reviews, but you can also click the links above to see current prices or read customer reviews on Chewy.
How Much Should You Feed Your Bulldog?
**Please note: these estimates are based on an average weight for this breed. Every dog is different. Please talk to your vet before making changes to your dog's diet.
English Bulldog Diet & Nutrition
English bulldogs are omnivores (like all dogs), and they need a complete nutritional profile. A good dog food for an English bulldog should include excellent, high-quality sources of protein, carbohydrates, fruits and veggies.
It's sometimes hard to find all of that in one food, but it's not impossible!
Male English bulldogs can weigh anywhere from 45 to 55 pounds, while ladies usually weigh somewhere in the range of 45 pounds. So, the above calorie estimates are based on a 50lb dog, which is about average for the breed.
It's also important to note that English bulldogs have notoriously low energy, so calorie estimates for this breed tend to be high. I mean really, it's hard to get these doggy dudes off the couch sometimes!
As always, the best solution is going to be to talk to your vet to see how much your specific bulldog needs to eat. You should also keep an eye on his weight to make sure he's neither gaining nor losing pounds (assuming he's a healthy adult).
Because English bulldogs find it so easy to gain weight (and keep it on after they do), you'll want to pay particular attention to the carbohydrates in their food. Take special care to avoid simple sugars and starches, especially corn, which is a major ingredient in some of the large, low-quality, name-brand foods out there.
Instead, shoot for slightly higher protein contents and good, healthy, slow-burning carbs, like brown rice, barley or sweet potatoes.
Bulldog Health Problems & How a Good Diet Can Help
Hip dysplasia
It's no secret that English bulldogs are prone to hip and joint troubles. This breed is bred to be squat and close to the ground, so you should carefully choose the best food for english bulldogs.
With that kind of bone structure—and at that weight—there's a lot of pressure on both their hips and knees. You can counter this with plenty of different dog foods; just look for anything with glucosamine.
The best options will be dog foods with natural sources of glucosamine, like Elk antler (obviously pretty rare). But any source of glucosamine will go a long way toward ensuring your dog's joints stay healthy for a long time.
Poor Eye Sight
English bulldogs also tend to have trouble with their eyes. And that really stinks because if your pup develops eye problems, there's usually very little you can do to treat it, which can even result in blindness.
If you want to avoid this, look for foods with beta-carotene. This can be found in most orange-colored vegetables, but carrots have it in particularly high volumes.
Carrots aren't that common of an ingredient in dog food, though, so you may have to poke around and read some nutrition labels (or just read our list below; we included a few options with carrots).
Farting! (…and some more serious related issues)
Like other bulldog breeds, the English variety tends to stick up the room. They're just gassy little dogs. If you're not careful, though, gas can lead to some more serious problems, like gastric torsion (also known as bloat), which is a very serious problem. It can even be fatal.
Whether you want to avoid smelling little puppy toots, or you want to avoid more serious digestive issues, the best thing to do is to space your English bulldog's meals out throughout the day.
Most bulldogs get two meals at least, but you can bump that up to three or four meals if your dog still produces regular fart clouds.
Reviews of the Best Dog Food for Bulldogs & Why You Might Dig Them...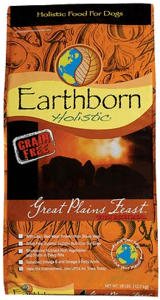 Earthborn Holistic's Great Plains formula is a best bulldog food with lots of good ingredients. Mostly, I like that the main ingredient is bison, a relatively lean protein that can help chubby dogs maintain a good, lean bodyweight.
There are lots of other sources of protein, though, like egg, lamb and vegetable protein (not soy, though). This particular recipe also contains flaxseed, which provides all those omegas that'll help your bulldog keep his shiny coat.
What I really like about this food, though, is that it includes carrots, which is something we were looking for. Carrots can help you pup's eyes stay healthy for longer.
Finally, there are tons of good fruits and veggies here, including blueberries, cranberries, apples, spinach and carrots. Just lots of good stuff. Hard to argue with that!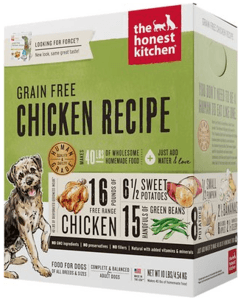 We don't often review freeze-dried food on this blog because, well, we honestly haven't tried many. So this particular dog food was a real eye-opener. I really had no idea that freeze-dried foods could be such high quality.
Honest Kitchen Force's chicken recipe makes about 40lbs of food (after you add water), which is quite a bit.
The ingredients are also very, very environmentally friendly. The main ingredient is chicken, and the chicken is free-range and sustainably raise. There's tons of great produce as well, such as alfalfa, kelp, apples, green beans and pumpkin, which also makes it a candidate for the best dog food for French bulldogs with gas.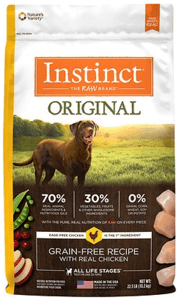 Instinct Grain-Free Chicken Meal Dry Dog Food by Nature's Variety rounds out our top five as a good all-around dog food.
It's not specifically formulated for bulldogs or for dogs of this size and age, but the ingredients are solid and work well for weight-conscious pups. Instinct dog food typically does a pretty good job of this.
There are absolutely no fillers and no soy. However, the main ingredient is chicken meal, and for the money you're going to spend on this product, we generally prefer higher-grade meat.
Still, there are plenty of vegetables here, and they've included some good fat supplements. It's a good dog food, but if you're looking for something that meets the specific needs of English bulldogs, there might be a few better options on this list.


Like this piece? Check out this article on picking a good dog food for pups with sensitive stomachs.
**Disclaimer: Our dog food reviews are based mostly on (1) our expertise and that of the experts with whom we consult and (2) the information provided by the manufacturers. We do test many dog foods (with our dog's help), but we can't test them all. As such, please remember the above recommendations are our opinions, and you should consult your vet before making changes to your dog's diet.
Image credits: Chewy.com