The "Saddest Dog in the World" (Happy at Last!)
Even though she became famous for being "The Saddest Dog in the World," this puppy may have a new reason to smile.
Some time ago, a photo on Facebook became viral in which a 1-year-old Labrador retriever mix named Lana was given the aforementioned moniker, showing her looking despondently down at the floor of her kennel. According to Rescue Dogs Match, a Canadian nonprofit that had been housing Lana, the popularity of that photo has led to Lana's placement in a temporary foster home – and now 2,240 adoption applications have come in for the dog.
Lana has been with Rescue Dogs Match in Ontario since she was just a puppy, developing behavioral issues from spending her entire life competing with other dogs for food and attention. Says Mighty Mutts, a dog training organization working with Rescue Dogs Match, "Often, when there are so many pups in a litter, they learn to compete for their food. It's the only way to survive when food is scarce." Mighty Mutts says they are working with Lana to deal with her issues and make her a happier, healthier dog for her future owner.
These behavioral issues have led to Lana having difficulty finding a home – when she was 5 months old, she was adopted to a family, but shortly returned because of these aforementioned problems. According to Rescue Dogs Match, "It was a very hard decision for them, they love her very much and they were responsible enough to contact the rescue where they knew she would get the home she now needs."
Now, Rescue Dog Match plans to get Lana into the hands of someone experienced in handling dogs, and specifically looking for adopters who have no children. In doing so, the organization posted the aforementioned Facebook photo looking for help. "Lana is currently in boarding and she is not doing well," the post said. "When Lana was returned and placed in boarding she totally shut down. She would not even go for a walk for the first 24 hours."
As of right now, though, Lana seems to be a little less sad. Rescue Dogs Match were able to find "a familiar face" to provide a foster home for her, where she seems to be coming out of her shell. Mighty Mutts owner Dahlia Ayoub notes that Lana "loves to go on hikes, she's great on leash, she loves to cuddle," relieved that this troubled dog is starting to make real progress toward a happy home.
The thousands of applications that have poured in are being examined closely by Rescue Dogs Match to give Lana a good, proper home in Ontario. As soon as Lana is properly trained and determined to be safe for normal ownership, they hope to find the perfect person to adopt Lana and give her the forever home she has been waiting so long for. With any luck, the "Saddest Dog in the World" will no longer hold that title.
Here Lana is a lot happier: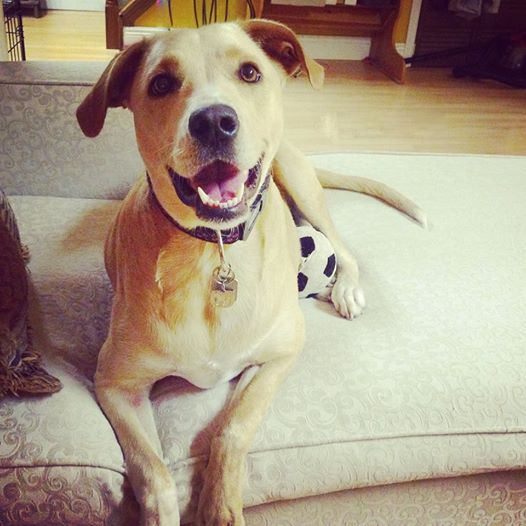 Image Creidt: AOL News